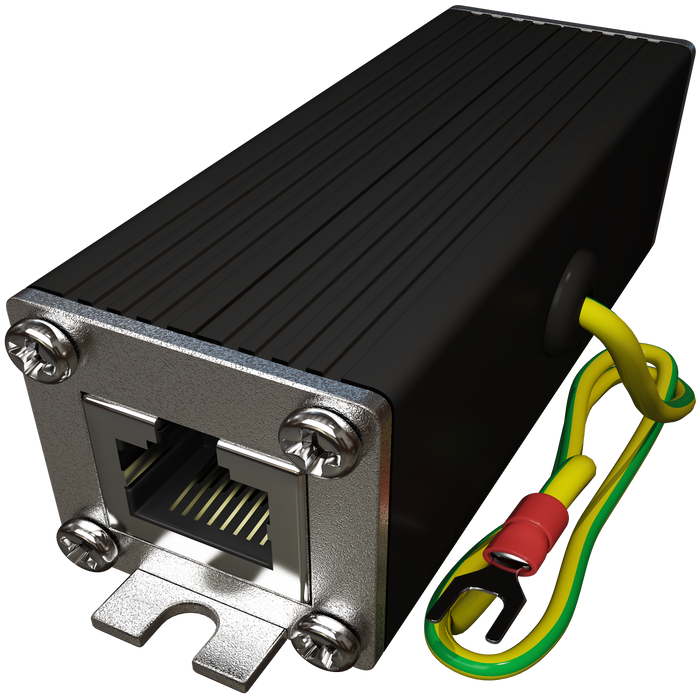 Tupavco TP302 Ethernet Surge Protector PoE++ Gigabit RJ45 Lightning Suppressor
Save

Liquid error (snippets/product-badge line 32): Computation results in '-Infinity'

%
UPC: 741360887824
Model Number: TP302

Ethernet Surge Protector is a surge protection device (SPD) that is inserted inline on an RJ45 CAT6/CAT5/CAT5e cable to prevent damage of electronic networking equipment.
Powerful surges that the device protects against include direct lightning strikes, voltage spikes, or PoE overvoltages. Despite the primary protection (a direct strike to a line), the thunder arrestor also offers secondary protection, which will arrest EMF induced surges (nearby lightning).
Ethernet Surge Suppressor TP302 use a Gas Discharge Tube (GDT) on all 4 pairs (8 wires). Gas discharge tubes dissipate the voltage transient through a contained plasma gas which harnesses excess voltage in the incoming power and releases it safely. It ensures the safety of a wide array of valuable components such as network hub, switch, router, modem, bridge, repeater, or any part of ISP (internet service provider) network or LAN system.
POE Surge Protector allows a single RJ-45 cable to provide both data connection and electric power to device such as wireless access point, IP and security camera, VoIP phone, computer and others. Surge Arrestor TP302 is designed to protect PSE (power-supply equipment) connected to a network from transient overvoltages. The ethernet surge protector PoE supports both Mode A (Pins 1,2+ 3,6-) and B (7,8+ 4,5-) of the 802.3af standard for supplying DC power. 802.3af (PoE) can deliver up to 15.4 watts per port over Cat5 cables with 12.95W assured to be available at the powered device, while 802.3at (PoE++) can deliver up to 30 watts over network cables with 25.5 watts available to devices. For that reason, PoE Plus is also known as High PoE. Ethernet surge protector allows PoE injected into the LAN cable at a voltage up to 60 volts DC, and typically 48 VDC is used.
Mounting flange on the both sides of lightning suppressor allows easy mounting to a wall, network panel, cabinet, or rack attaching by screws (not included).
The unit's data rate of Gigabit 10/100/1000 (GbE) transfer supports an ultra-fast maximum data rate of 1 Gigabit per second (Gbps - 1000 Mbps) and does not affect the speed performance in the local area network.
The Ethernet lightning arrestor must be properly grounded to work. The ethernet ground wire (12 Inch - 16 AWG) on the surge protector needs to be connected to ground through the shortest path. Excess electricity will follow the path of least resistance. In most cases, a ground busbar on an electrical panel or network rack cabinet is already grounded and is typically the easiest way to ground the wire. Other options to ground RJ45 surge protector are grounding block on the breaker panel, grounding rod or terminal of the closest outlet by connecting the ground wire to circular grounding hole on the grounded outlet center screw.
The lightning arrestor can be used with unshielded twisted pair (UTP) or shielded (STP) cables. The arrester is housed in a cast aluminum enclosure. The metal housing allows shielded current to be passed through the metal case of the network surge protector.
The Line-to-Line ethernet surge protection mode helps protect against short circuits between different nodes of the network system while the Line-to-Ground mode protects against short circuits between the network node and the earth. As it is not known where the transient will happen, having both modes protected ensures damage is minimized. Nominal Discharge Current of 20KA defines the peak value of the current that can be passed through the SPD having a waveshape of 8/20μs microsecond where the RJ45 lightning arrestor remains functional after 15 surges.
Once the surge voltage exceeds its designed rating it "begins to clamp" and starts to conduct energy directly to the electrical grounding system. A bidirectional clamping on CAT5 surge protector allows levels above and below the reference voltage by clamping the voltage that can cause damage.
Network surge protector works in both directions (IN/OUT), so the source input signal cable can be connected to any side. It is not important which side the equipment is behind, however the surge protector will protect networking equipment only on the opposite side of where surge occurs. To protect devices on both sides, it is recommended to have one of the surge protectors on each end of the RJ45 cable in the network topology.
Investing in a small, easy to install surge protector with all of the needed features and proven reliability can be the safest and most cost-effective solution for protecting your whole Ethernet network.
Nominal Discharge Current (8/20μs):  20 KA
Nominal PoE voltage : <60V
PoE current up to 1A
PoE Mode Support Mode A and B for Power
Impedance 100 ohms
Tested standards IEC 61643-21, IEC61000-4-5
Clamping Voltage Line-Ground: 72 Volts
Clamping Voltage Line-Line: 72 Volts
Protection Modes Line-Line, Line-Ground
Operating Temperature -40°C (-40°F) to +80°C (+176°F)
Outside Dimensions (W*L*H) 26*26*62 mm
Weight: 60 g
Protecteur de surtension d'Ethernet
est un dispositif anti-surtension (SPD) qui s'insère sur un câble RJ45 CAT6/CAT5/CAT5e pour prévenir tout endommagement de l'équipement informatique en réseau. Le dispositif protège contre les surtensions dangereuses comme les coups de foudre directs les crêtes de tension ou les survoltages PoE. Malgré la protection première (une frappe directe sur la ligne), le parafoudre procure également une protection secondaire, qui arrête les surtensions electromotrices (foudre proche d'Ethernet).
Le suppresseur de foudre Ethernet TP302 protège à plusieurs niveaux, utilisant le
tube de décharge de gaz
(GDT) sur les 4 paires (8 fils), les éclateurs, les résistances en séries de limitation de courant et le réseau de diodes de faibles capacités à l'étape finale.
Les tubes de décharge de gaz
(GDTs) ont été mis au point pour surmonter les inconvénients des protecteurs basés sur les diodes comme la capacité de gestion de l'énergie. Il convient pratiquement à toutes les surtensions aussi bien de haute que de faible capacité. Les surtensions sont interceptées par le parafoudre à tubes de décharge de gaz qui procure une performance de contrôle rigoureux d'étincelles de décharge. Le suppresseur de foudre Ethernet TP302 utilise le tube de décharge de gaz (GDT) sur les 4 paires (8 fils). Les tubes de décharge de gaz dissipent les transitoires de tension par gaz plasmagène qui maitrise la tension excessive de la tension d'entrée et la libère en sécurité. De cette manière il garantit la sécurité d'un large éventail de composants précieux comme l'interrupteur, le routeur, le modem, le bridge, le répéteur ou n'importe quelle composante du réseau Internet.
Le transfert de Gigabit GbE 10/100/1000
, permet à notre protecteur de surtensions Ethernet de prendre en charge un débit d'1 Gigabit par seconde (Gbps – 1000 Mbps) qui n'a aucune incidence sur la vitesse et la performance du réseau informatique local.
Le parafoudre PoE permet à un seul câble RJ-45 d'assurer la fourniture de la connexion d'alimentation et de données aux dispositifs comme le point d'accès sans fil, le périphérique IP, la caméra de sécurité, le téléphone VoIP, l'ordinateur etc. Le parafoudre TP302 est conçu pour protéger l'équipement d'alimentation électrique (PSE) relié au réseau contre les surtensions transitoires. Notre protecteur de surtensions Ethernet PoE prend en charge le
mode A (Pins 1,2+ 3,6-)
et
le mode B (7,8+ 4,5-)
de la norme 803.3af pour l'alimentation DC.
(PoE) 802.3af
fournit jusqu'à 15,4 watts par port grâce aux câbles CAT5 et garantit 12,95 W disponibles pour le dispositif alimenté, tandis que le
802.3at
(PoE++) fournit jusqu'à 30 watts grâce aux câbles de réseau et 25,5 watts disponibles pour les dispositifs. C'est pourquoi PoE++ est également connu comme un
PoE de Haute puissance
. Le protecteur Ethernet permet l'utilisation de PoE branché à un câble LAN au voltage jusqu'à 60 volts DC, et on utilise habituellement 48 VDC.
Pour fonctionner, le parafoudre Ethernet doit être correctement mis à la terre. Le
fil de terre
Ethernet (28 cm - 16 AWG) sur le dispositif anti-surtension doit être relié à la terre par le plus court chemin. Le surplus d'électricité va suivre la voie de moindre résistance. Dans la plupart des cas, la barre collectrice de terre sur un panneau électrique ou un coffret de réseau Rack est déjà mise à la terre ce qui est généralement le moyen le plus facile. Le protecteur de surtensions RJ-45 peut également être mis à la terre en utilisant le bloc de mise à la terre du panneau électrique, la tige de mise à la terre ou la borne de la prise la plus proche en reliant le fil de terre au trou circulaire de mise à la terre sur une vis centrale de prise de terre.
Les brides de fixation sur les deux côtés du dispositif anti-surtension permettent de fixer le boîtier facilement, sur un mur, un tableau électrique, une armoire de réseau ou un Rack à l'aide de vis (non fournies).

Le parafoudre peut être utilisé avec des câbles à paire torsadée, non blindés (UTP), ou standards (STP). Le dispositif de protection est logé dans un boîtier en aluminium. L'enveloppe métallique permet au courant isolé de passer à travers la boîte métallique de notre dispositif anti-surtension.

Le mode de protection contre les surtensions Ethernet ligne-à-ligne protège contre les courts circuits entre les différents nœuds du système de réseau alors que le mode de protection ligne-terre protège contre les courts circuits entre un nœud de réseau et la terre. Comme on ne peut pas savoir à quel endroit la surtension transitoire va survenir, la protection des deux modes garantit la réduction du risque d'endommagement. Le courant nominal de décharge de 5KA définit la valeur maximale du courant qui peut passer par le SPD avec une oscillation de 8/20μs microseconde. Le parafoudre RJ45 reste fonctionnel après 15 surtensions.

Quand la tension Ethernet du dispositif anti-surtension excède la puissance autorisée, le protecteur « commence à serrer » et à conduire l'énergie directement vers le système de mise à la terre du réseau électrique. Le serrage bidirectionnel sur le CAT5 du parafoudre autorise le niveau au-dessus et le niveau au-dessous de la tension de référence en arrêtant la tension qui peut causer des dommages.

Le parafoudre Ethernet va dans les deux sens (Entrée/Sortie) et le câble du signal source entrant peut être raccordé de n'importe quel côté. Le côté du dispositif où se situe votre équipement n'a aucune importance. Mais, le protecteur de surtension protégera seulement l'équipement du réseau situé du côté opposé à l'endroit où survient l'excès de tension. Si vous souhaitez protéger vos appareils des deux côtés, nous recommandons de poser un parafoudre de chaque côté du câble RJ45 dans la topologie de votre réseau.

Investir dans un dispositif anti-surtension de petite taille, facile à fixer, qui présente toutes les caractéristiques requises en plus d'être d'une fiabilité reconnue, est le moyen le plus sûr et le plus économique pour protéger la totalité de votre réseau Ethernet.

Courant nominal de décharge (8/20μs) :5KA
Voltage nominal PoE: <60V
Courant PoE jusqu'à 1A
Mode PoE : prend en charge mode A et B pour alimentation
Impédance 100 ohms
Normes testées IEC 61643-21, IEC61000-4-5
Fixation du voltage ligne-terre: 72 Volts
Fixation du voltage ligne-ligne: 72 Volts
Modes protection ligne-ligne, ligne-terre
Température de fonctionnement – 40 °C (-40°F) to +80°C (+176°F)
Dimensions extérieures (L*L*H) 26*26*62 mm
Poids : 60 g
Lo scaricatore di sovratensione Ethernet è un dispositivo di protezione inserito inline su un cavo RJ45 CAT6/CAT5/CAT5e che protegge l'attrezzatura elettronica da danni dovuti a sbalzi di corrente.
Gli sbalzi elettrici da cui questo device protegge i dispositivi includono scariche dirette causate da fulmini, picchi di voltaggio, o sovratensioni PoE. Oltre alla protezione primaria (una scarica diretta alla linea), questo scaricatore offre anche una protezione secondaria, che arresterà le sovratensioni indotte dai campi elettromagnetici.
[Il soppressore di sovratensioni Ethernet TP302 offre una protezione multipla utilizzando un tubo a scarica di gas (GDT) su 4 coppie (8 cavi), spinterometro, resistori in serie limitanti di corrente, e una matrice di diodi a bassa capacità nello stadio finale.]
I tubi a scarica di gas (GDT) sono sviluppati per superare alcuni degli svantaggi dei protettori basati su diodo, quali la capacità di gestione dell'energia, e sono adattabili a quasi tutte le sovratensioni, sia ad alta che a bassa frequenza. Queste ultime possono essere intercettate da uno scaricatore con tubi a scarica di gas, che fornisce un rigoroso controllo della scarica. Il soppressore di sovratensione Ethernet TP305 utilizza un tubo a scarica di gas su tutte e 4 le coppie (8 cavi). Questi dissipano il voltaggio transitorio tramite uno scaricatore a plasma di gas che trattiene l'eccesso di voltaggio nella corrente elettrica in entrata e la rilascia in maniera sicura.  Garantisce la sicurezza di un'ampia gamma di componenti di valore quali switch, router, modem, bridge, ripetitori o qualsiasi altro dispositivo di rete.
La velocità di trasmissione a 10/100/1000 Gigabit del nostro limitatore di sovratensione supporta un velocità massima ultraveloce di 1 Gigabit a secondo (Gbps – 1000 Mbps), e non  influenza in alcun modo le prestazioni di velocità della rete locale.
Il protettore di sovratensione Power over Ethernet (PoE) permette ad un singolo cavo RJ-45 di fornire sia connessione dati che elettricità a dispositivi quali wireless access point, IP e telecamere di sicurezza, telefoni VoIP, computer e altri dispositivi. Il protettore TP302 è progettato per proteggere le apparecchiature elettriche connesse ad una rete da sovratensioni improvvise. Questo dispositivo supporta entrambe le modalità A (Pins 1,2+ 3,6-) e B (7,8+ 4,5-) degli standard della norma 802.3af sulla corrente continua. La 802.3af (PoE) può fornire fino a 15.4 watts per porta su cavi Cat 5 con 12.95W disponibili sul dispositivo alimentato, mentre la 802.3at (PoE++) può fornire 30 watt sui cavi della rete con 25.5 watt disponibili ai dispositivi. Per questa ragione, PoE++ è conosciuto anche come High PoE. La protezione Ethernet consente l'iniezione di PoE nel cavo LAN a una tensione fino a 60 volt CC, e in genere viene utilizzato a 48V CC.
Per funzionare, il protettore di sovratensione deve essere correttamente installato.  Il cavo di messa a terra Ethernet (28 cm – 2 mm diam.) deve essere collegato a terra tramite il cammino più corto. L'eccesso di elettricità seguirà il percorso di minor resistenza. Nella maggior parte dei casi, una blindosbarra su un pannello elettrico o in un rack di rete sono già installati, ed è solitamente il modo migliore per effettuare la messa a terra. Altre opzioni sono il blocco di messa a terra sul pannello dell'interruttore, la vergella di messa a terra o il terminale della presa più vicina, collegando il cavo al foro circolare dell'uscita della vite centrale.
Le flange di montaggio su entrambi i lati permettono un'installazione facile sulla parete, su un pannello di rete, su un case del computer, o su un rack tramite viti (non incluse).
Il protettore di sovratensione può essere utilizzato con cavi twisted pair (doppino ritorto) o cavi schermati. Lo scaricatore è alloggiato in un case in alluminio pressofuso. L'alloggiamento metallico consente di far passare la corrente schermata attraverso la case metallica del dispositivo di protezione.
La modalità di protezione di sovratensione line-to-line aiuta a proteggere contro cortocircuiti tra diversi nodi della rete, mentre la modalità line-to-ground protegge contro cortocircuiti tra terra e nodi di rete. Siccome non si sa dove si verificherà il transitorio, avere protezione in entrambe le modalità assicura che i danni siano minimizzati. La Corrente Nominale di Scarica di 5KA definisce il picco di valore della corrente che può passare attraverso lo scaricatore di corrente con una forma d'onda di 8/20μs microsecondi in cui lo scaricatore di sovratensione rimarrà in funzione dopo 15 picchi di corrente.
Una volta che la tensione del limitatore di sovratensione supera il valore nominale, "inizia il serraggio" e comincia a condurre energia direttamente al sistema di messa a terra. Un serraggio bidirezionale sul protettore di sovratensione  permette di uniformare a livelli superiori o inferiori rispetto alla tensione di riferimento, bloccando la tensione che potrebbe causare danni.
Il surge protector Ethernet funziona in entrambe le direzioni (IN/OUT), per cui il cavo del segnale di ingresso può essere collegato su entrambi i lati. Non importa dietro quale lato si trovi l'apparecchiatura, ma il surge protector proteggerà solo i dispositivi di rete sul lato opposto a quello dove avviene la sovratensione. Per proteggere i dispositivi su entrambi i lati, è raccomandabile avere un dispositivo di protezione su ogni lato del cavo RJ45 nella topologia di rete.
Investire in un protettore di sovratensione piccolo, facile da installare, e dotato di importanti funzioni e affidabilità, può essere il modo più semplice ed economico per proteggere la tua intera rete Ethernet.
Corrente nominale di scarica (8/20μs):  5 KA
Voltaggio nominale PoE: <60V
Corrente PoE fino a 1A
Modalità Supporto PoE Mode A e B per Elettricità
Impedenza 100 ohms
Standard IEC 61643-21, IEC61000-4-5
Clamping Voltage Line-Ground: 72 Volts
Clamping Voltage Line-Line: 72 Volts
Modalità Protezione Line-Line, Line-Ground
Temperatura in funzione da -40°C (-40°F) a +80°C (+176°F)
Dimensioni esterne (L*L*A) 26*26*62 mm
Peso: 60 g
Der Ethernet Surge Protector ist ein Überspannungsschutzgerät (SPD), das inline an ein RJ45 CAT6/CAT5/CAT5e Kabel angeschlossen wird, um vor Schäden an einer Vielzahl wertvoller elektronischer Netzwerkgeräte zu schützen.
Das Gerät schützt vor starken Überspannungen wie direkte Blitzeinschläge, Spannungsspitzen oder PoE-Überspannungen. Trotz des primären Schutzes (direkter Schlag auf eine Leitung) bietet der Gewitterableiter auch einen sekundären Schutz, der EMV-induzierte Überspannungen verhindert.
Der Ethernet-Überspannungsschutz TP302 bietet mehrstufigen Schutz durch ein Gasentladungsrohr (GDT) an allen 4 Paaren (8 Drähte), Funkenstrecken, strombegrenzende Widerstände und eine Diodenanordnung mit niedriger Kapazität in der Endstufe.
Es wurden Gasentladungsröhren (GDTs) entwickelt, um einige Nachteile von Dioden basierten Protektoren zu vermeiden, wie z.B. die Fähigkeit zur Energieverarbeitung. Sie eignen sich für fast alle Überspannungen, ob hoch- oder niederfrequent, sie können von einem Gasentladungsröhren-Überspannungsableiter abgefangen werden, sodass sie eine rigorose Funkenentladungskontrolle ermöglichen. Der Ethernet-Überspannungsschutz TP302 verwendet ein Gasentladungsrohr (GDT) an allen 4 Paaren (8 Drähte). Die Gasentladungsröhren leiten den Spannungsübergang durch ein Plasmagas ab, sodass die überschüssige Spannung als Energie genutzt und sicher abgegeben wird. Die Sicherheit einer Vielzahl von wertvollen Geräten wie Schalter, Router, Modem, Parallelschaltung, Verstärker etc. wird gewährleistet.
Die Gigabit- Überspannungsschutzrate von 10/100/1000 Gigabit (GbE) unterstützt eine ultraschnelle maximale Datenrate von 1 Gigabit pro Sekunde (Gbps - 1000 Mbps) und beeinträchtigt nicht die Geschwindigkeitsleistung im lokalen Netzwerk.
Der POE Überspannungsschutz ermöglicht es, ein einzelnes RJ45-Kabel zu nutzen, um sowohl Datenverbindung als auch Strom für Geräte wie W-LAN, IP- und Sicherheitskamera, VoIP-Telefon, Computer und andere bereitzustellen. Der Überspannungsableiter TP302 wurde entwickelt, um PSE (Stromversorgungsgeräte), die an ein Netzwerk angeschlossen sind, vor transienten Überspannungen zu schützen. Der Ethernet-Überspannungsschutz PoE unterstützt sowohl Mode A (Pins 1,2+ 3,6-) als auch B (7,8+ 4,5-) des Standards 802.3af zur Versorgung mit Gleichstrom. 802.3af (PoE) kann bis zu 30 Watt über das Netzwerkkabel abgeben, wobei 25,5 Watt für Geräte zur Verfügung stehen. Aus diesem Grund wird PoE Plus auch als High PoE bezeichnet. Der Ethernet-Schutz ermöglicht die PoE-Benetzung in das LAN-Kabel mit einer Spannung von bis zu 60 Volt DC, wobei typischerweise 48 VDC verwendet werden.
Der Ethernet-Blitzableiter muss ordnungsgemäß geerdet sein, damit er funktioniert. Der Ethernet-Masseleiter (11 Zoll - 16 AWG) am Überspannungsschutz muss auf dem kürzesten Weg mit der Erde verbunden werden. Überschüssiger Strom folgt dem Weg mit dem geringsten Widerstand. In den meisten Fällen ist eine Erdungssammelschiene an einem Schaltschrank oder einem Netzwerkschrank bereits geerdet und ist in der Regel die einfachste Art, den Draht zu erden. Weitere Optionen für den Erdungsüberspannungsschutz RJ45 ist der Erdungsblock an der Schalttafel, der Erdungsstab oder die Klemme der nächstgelegenen Steckdose, die mit dem Erdungskabel mit dem kreisförmigen Erdungsloch an der mittleren Schraube des geerdeten Auslasses verbunden wird.
Der Montageflansch auf beiden Seiten des Blitzschutzes ermöglicht eine einfache Montage an einer Wand, einem Netzwerk-Paneel, -Schrank oder -Rack, der mit Schrauben befestigt wird (nicht im Lieferumfang enthalten).
Der Blitzableiter kann mit einem ungeschirmten Twisted Pair (UTP) oder geschirmten (STP) Kabeln verwendet werden. Der Ableiter ist in einem Aluminiumgussgehäuse untergebracht. Das Metallgehäuse ermöglicht es, abgeschirmten Strom durch das Metallgehäuse des Überspannungsschutzes zu leiten.
Der Line-to-Line (Linie zu Linie) Ethernet-Überspannungsschutzmodus schützt vor Kurzschlüssen zwischen verschiedenen Netzwerkknoten, während der Line-to-Ground-Modus (Linie zu Boden) vor Kurzschlüssen zwischen dem Netzwerkknoten und der Erde schützt. Da nicht bekannt ist, wo die Transiente stattfinden wird, sorgt der Schutz beider Modi dafür, dass Schäden minimiert werden. Der Nennableitstrom von 5KA definiert den Spitzenwert des Stroms, der durch den SPD mit einer Wellenform von 8/20μs Mikrosekunden geleitet werden kann, wobei der RJ45-Blitzableiter nach 15 Überspannungen funktionsfähig bleibt.
Sobald die Ethernet-Spannung des Überspannungsschutzgerätes seine vorgesehene Größe überschreitet, beginnt er zu "klemmen" und leitet die Energie direkt an das elektrische Erdungssystem. Eine bidirektionale Klemmung des CAT5 Überspannungsschutzes ermöglicht das Über- und Unterschreiten der Referenzspannung durch Klemmen der Spannung, das Schäden verursachen kann.
Der Überspannungsschutz des Ethernet-Netzwerks funktioniert in beide Richtungen (IN/OUT), sodass das Signalkabel des Quelleingangs von jeder Seite aus angeschlossen werden kann. Es ist nicht wichtig, auf welcher Seite sich das Gerät befindet, aber der Überspannungsschutz schützt Netzwerkgeräte nur auf der gegenüberliegenden Seite, auf der die Überspannung auftritt. Um Geräte auf beiden Seiten zu schützen, wird empfohlen, einen der Überspannungsableiter an jedem Ende des RJ45-Kabels in der Netzwerktopologie zu verwenden.
Die Investition in einen kleinen, einfach zu installierenden Überspannungsschutz mit allen erforderlichen Funktionen und bewährter Zuverlässigkeit kann die sicherste und kostengünstigste Lösung zum Schutz Ihres gesamten Ethernet-Netzwerks sein.
Nennableitstrom (8/20μs): 5 KA
PoE-Nennspannung: <60V
PoE-Strom bis zu 1A
PoE-Modus Unterstützungsmodus A und B für Leistung Impedanz 100 Ohm
Geprüfte Normen IEC 61643-21, IEC61000-4-5
Klemmspannung Leitung - Masse: 72 Volt
Klemmspannung Netzleitung: 72 Volt
Linie-Linie, Linie-Boden
Betriebstemperatur -40°C (-40°F) bis +80°C (+176°F)
Außenabmessungen (B*L*H) 26*26*62 mm
Gewicht: 60 g
El protector de sobretensiones para Ethernet es un dispositivo de protección contra sobretensiones (SPD) que se inserta en línea en un cable RJ45 CAT6/CAT5/CAT5e para evitar daños en los equipos electrónicos conectados en las redes.
Las potentes sobrecargas contra las que este dispositivo protege incluyen descargas directas de rayos, picos de voltaje o sobretensiones PoE. Además de la protección primaria (un golpe directo en una línea), el supresor de rayos también ofrece una protección secundaria, que detiene las sobretensiones inducidas por CEM (descarga de rayo cercana a Ethernet).
[El Protector contra sobretensiones para Ethernet modelo TP302 ofrece protección multietapa, utilizando un Tubo de Descarga de Gas (GDT) en 4 pares (8 cables), descargadores de chispas, resistencias en serie de limitación de corriente y un conjunto de diodos de baja capacitancia en la etapa final.]
Los Tubos de Descarga de Gas (GDT) se han desarrollado para superar algunas de las desventajas de los protectores basados en diodos, como la capacidad de gestión de energía y son adecuados para casi todas las sobrecargas, ya sean de alta o baja frecuencia. Las sobrecargas pueden ser interceptadas por un supresor de rayos de Tubo de Descarga de Gas, proporcionando un riguroso rendimiento de control de descarga de chispa. El supresor contra sobretensiones Ethernet TP302 usa un Tubo de Descarga de Gas (GDT) en los 4 pares (8 cables). Los Tubos de Descarga de Gas disipan el voltaje transitorio a través de un gas plasma contenido que aprovecha el exceso de voltaje en la energía entrante y lo libera de manera segura. Esto garantiza la seguridad en una amplia gama de costosos componentes, como conmutadores, enrutadores, módems, puentes, repetidores o cualquier parte de la red de servicios de Internet.
La tasa de transferencia de datos del protector contra sobretensiones Gigabit 10/100/1000 (GbE) soporta una velocidad de datos máxima ultra rápida de 1 Gigabit por segundo (Gbps - 1000 Mbps) y no afecta al rendimiento de velocidad en la red de área local.
El protector contra sobretensiones PoE permite que un solo cable RJ-45 proporcione tanto conexión de datos como energía eléctrica a un dispositivo tales como un punto de acceso inalámbrico, un IP y cámara de seguridad, teléfono VoIP, ordenador y otros. El supresor de sobretensiones TP302 está diseñado para proteger los PSE (equipos de alimentación) conectados a una red de sobretensiones transitorias. El protector contra sobrecarga de Ethernet PoE es compatible con el Modo A (pines 1,2+ 3,6-) y B (7,8+ 4,5-) del estándar 802.3af para suministrar alimentación de CC. El estándar 802.3af (PoE) puede suministrar hasta 15.4 vatios por puerto a través de cables Cat 5 con 12,95 vatios que estarán disponibles con seguridad en el dispositivo alimentado, mientras que 802.3at (PoE +) puede suministrar hasta 30 vatios a través de cables de red con 25,5 vatios disponibles para dispositivos. Por esta razón el PoE Plus también se conoce como High PoE. El protector Ethernet permite que se introduzca Poe en el cable LAN a un voltaje de hasta 60 voltios de CC, y normalmente se usan 48 VCC.
El protector contra rayos de Ethernet debe estar correctamente conectado a tierra para funcionar. El cable de tierra Ethernet (27,94 centímetros - 16 AWG) del protector contra sobrecargas debe conectarse a tierra a través del camino más corto. El exceso de electricidad seguirá el camino de menor resistencia. En la mayoría de los casos, una barra de conexión a tierra en un panel eléctrico o en un armario de red rack ya están conectados a tierra y, por lo general, es la forma más fácil de conectar el cable a tierra. Otras opciones para poner a tierra el protector de sobrevoltaje RJ45 son el bloque de conexión a tierra en el panel del interruptor, la varilla de conexión a tierra o en el terminal de corriente con toma de tierra más cercano conectando el cable de tierra al orificio circular de conexión a tierra en el tornillo central de toma de tierra.
La brida de montaje en ambos lados del supresor de sobretensiones permite un fácil montaje en la pared, al panel de red, al armario rack o bastidor mediante tornillos (no incluidos).
El pararrayos se puede usar con cables tipo Par Trenzado sin Blindaje (UTP) o Blindados (STP). El protector contra sobretensiones está inserto en una carcasa de aluminio fundido. La carcasa metálica permite que la corriente blindada pase a través de la carcasa metálica del protector contra sobretensiones de la red.
El modo de protección contra sobretensiones de Ethernet Linea-a-Linea ayuda a proteger contra cortocircuitos entre diferentes nodos del sistema de red, mientras que el modo de Línea-a-Tierra protege contra cortocircuitos entre el nodo de red y la tierra. Como no se sabe dónde ocurrirá lo transitorio, tener ambos modos protegidos garantiza que el daño se minimice. La corriente de descarga nominal de 5KA define el valor máximo de corriente que puede pasar a través del SPD teniendo forma de onda de 8/20 μs microsegundos donde el protector contra rayos RJ45 sigue funcionando después de 15 picos de tensión.
Una vez que el voltaje de Ethernet del protector contra sobretensiones excede su grado diseñado, "comienza a restringir" y empieza a conducir energía directamente al sistema eléctrico de conexión a tierra. Una restricción bidireccional en el protector contra sobretensiones CAT5 permite niveles por encima y por debajo del voltaje de referencia al bloquear el voltaje que puede causar daños.
El protector contra sobretensiones de red Ethernet funciona en ambas direcciones (IN / OUT), por lo que el cable de señal de entrada de la fuente se puede conectar a cualquier lado. No es importante de qué lado está el equipo, sin embargo, el protector contra sobrecargas protegerá el equipo de red solo en el lado opuesto al lugar donde ocurre la sobrecarga. Para proteger los dispositivos en ambos lados, se recomienda tener uno de los protectores contra sobrecargas en cada extremo del cable RJ45 en la topología de la red.
Invertir en un protector contra sobretensiones pequeño y fácil de instalar con todas las características necesarias y una fiabilidad comprobada puede ser la solución más segura y económica para proteger toda su red Ethernet.
Corriente de descarga nominal (8 / 20μs): 5 KA
Voltaje PoE nominal: <60V
Corriente PoE hasta 1A
Modo PoE admite el Modo A y B para suministro de alimentación
Impedancia de 100 ohmios
Normas probadas IEC 61643-21, IEC61000-4-5
Voltaje de restricción Línea-a-Tierra: 72 voltios
Voltaje de restricción Línea-a-Línea: 72 Voltios
Modos de protección Línea-a-Línea, Línea-a-Tierra
Temperatura de funcionamiento -40 ° C (-40 ° F) a + 80 ° C (+ 176 ° F)
Dimensiones exteriores (A * L * Al) 26 * 26 * 62 mm
Peso: 60 g
イーサネットサージプロテクタは、電子ネットワーク機器の損傷を予防するために、RJ45/ CAT6/CAT5/CAケーブルにインラインされているサージ保護機器(SPD)です。
直撃雷、電圧ノイズ、PoE過電圧など強力なサージから保護してくれるデバイスです。一次保護(ラインへの直撃)に併せて、避雷器による二次保護を設けることで、EMFによって引き起こされたサージ(近場の落雷イーサネット)をキャッチすることが可能です。
イーサネットサージプロテクタ TP302は、全4ペア(8本のワイヤー)にガス放電管(GDT)を使って、スパークギャップ、電流制限直列抵抗、そして最後に低用量ダイオードアレイの多段階保護を提供致します。
ガス放電管 (GDT)は、エネルギー処理能力のようなダイオードベースの保護装置の欠点を克服するために開発され。高周波であれ低周波であれ、ほとんどすべてのサージに適している厳密な火花放電制御性能を発揮します。イーサネットサージプロセッサTP302は、全4ペア(8本のワイヤー)にガス放電管 (GDT)を使用しています。ガス放電管は、入ってくる電力の過剰な電圧を利用し、封じ込められたプラズマガスを通して過渡電圧を消散させます。スイッチ、ルーター、モデム、ブリッジ、リピーター、インターネットサービスネットワークのあらゆる部分などの安全を保障します。
避雷器の両側にフランジを取りつけることで、壁、ネットワークパネル、キャビネットもしくはラックに簡単にネジ(含まれていません)で取り付けることができます。
ギガビット10/100/1000 (GbE)転送の際のギガビットサージプロテクタのデータレートは、1ギガビット/秒(Gbps - 1000 Mbps)の超高速最大データレートをサポートし、ローカルエリアネットワークの高速パフォーマンスには影響しません。
POEサージプロテクタは、1本のRJ-45ケーブルで、ワイヤレスアクセスポイント、IPおよび防犯カメラ、VoIP電話、コンピューターなどの機器にデータ接続と電力の両方を提供することを可能にします。サージアレスタTP302は、ネットワークに接続されているPSE(電源装置)を過渡電圧から保護するよう設計されています。イーサネットサージプロテクタPoEは、DC電源を供給するための802.3af (PoE)規格Aモード (Pins 1,2+ 3,6-) および B (7,8+ 4,5-)の両方をサポートします。802.3af (PoE)は、Cat5ケーブルを介してポートあたり最大15.4Wを12.95Wで供給可能であり、一方、802.3at (PoE++)はネットワークケーブルを介して最大30Wを25.5Wで装置に供給可能です。そのため、PoE PlusはHigh PoEとも呼ばれています。イーサネットプロテクタは最大60DCの電圧でLANケーブルに注入されるPoEを許容し、通常48VDCが使用されます。
イーサネット避雷器は、正しく機能するよう接地されている必要があります。サージプロテクタのイーサネットアースワイヤー(11インチ-16AWG)は、最短経路でアースに接続する必要があります。過剰な電気は、最も抵抗の少ない経路をたどります。ほとんどの場合、電気パネルまたはネットワークラックキャビネットのアースデバイスはすでにアースされており、通常はワイヤーをアースする最も簡単な方法です。RJ45サージプロテクタを接地するその他の方法は、接地線を接地されているコンセントの中心ネジの形の接地穴に接続して、ブレーカーパネルのアースブロック、アース棒、または最も近いコンセントの端子です。
避雷器は、シールドなしツイストペア(UTP)ケーブルまたはシールド付き(STP)ケーブルで使用できます。避雷器は鋳造アルミの筐体に収容されています。金属製ハウジングにより、シールド電流をネットワークサージプロテクタの金属製ケースに流すことができます。
Line-to-Lineイーサネットサージ保護モードは、ネットワークシステムの異なるノード間の短絡から保護するのに役立ちますが、
Line-to-Grounモードは、ネットワークノードとアース間の短絡から保護します。どこで過渡現象が発生するのかはわからないので、両方のモードを保護することで損傷を最小限に抑えることができます。5KAの公称放電電流は、RJ45避雷器が15回のサージ後も機能し続ける8 /20μsマイクロ秒の波形を持つSPDを通過することができる電流のピーク値を定義します。
サージプロテクタのイーサネット電圧が設計された定格を超えると、「クランプ」を開始し、電気接地システムに直接エネルギーを伝導し始めます。 CAT5サージプロテクタの双方向クランプは、損傷を引き起こす可能性のある電圧をクランプすることによって基準電圧の上下のレベルを許容します。
イーサネットネットワークサージプロテクタは、双方向(IN / OUT)で動作するため、ソース入力信号ケーブルはどちら側にも接続できます。機器の裏側は重要ではありませんが、サージプロテクタはネットワーキング機器を保護するのは、サージが発生する場所の反対側だけです。両側でデバイスを保護するために、ネットワークトポロジ内のRJ45ケーブルの両端にそれぞれ1つずつサージプロテクタを配置することをお勧めします。
公称放電電流(8 /20μs):5KA
公称PoE電圧: <60V
最大1AのPoE電流
電力用PoEモード サポートモードAおよびB
インピーダンス100オーム
検証済み標準IEC 61643-21, IEC61000-4-5
クランプ電圧ライン-グラウンド: 72ボルト
クランプ電圧ライン-ライン: 72ボルト
保護モードライン-ライン、ライン-グラウンド
動作温度-40°C (-40°F) から +80°C (+176°F)
外形寸法(広さ*長さ*高さ) 26*26*62 mm