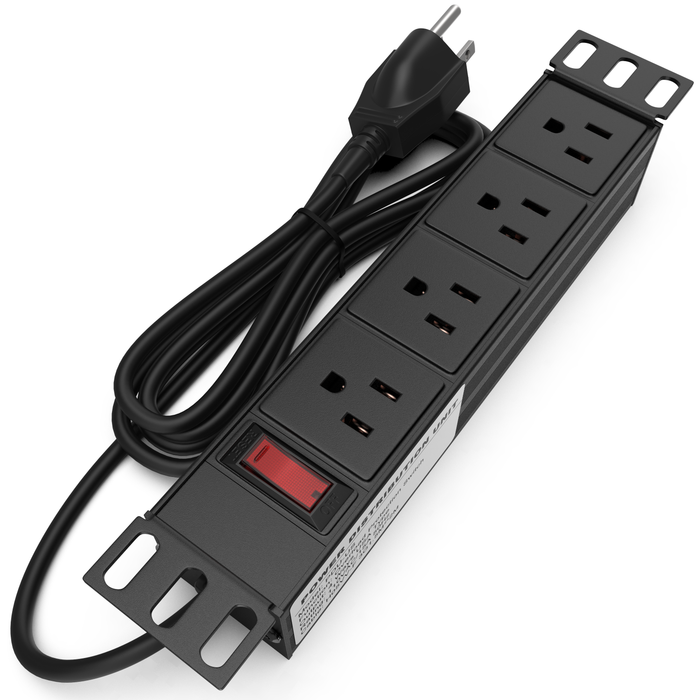 10" Rack PDU - 1U (4 Outlet) Power Distribution Unit 10 inch w/Protection (110V/15A 6ft Cable) - Tupavco TP1713
UPC: 709401088180
Model Number: TP1713
This power distribution unit was created for 10" racks, cabinets, or enclosures with two or four posts.

Its main purpose is to ensure the enclosure's electrical components are adequately powered. The Tupavco TP1713 power strip contains 4 NEMA 5-15 outlets and can mount on any 10 inch rack, taking up only 1U of space.

It is important to ensure the safety of your expensive electrical equipment regardless of its use (networking, audio/video etc). Our product has built-in overload protection giving you peace of mind that your devices are safe. The circuit breaker acts as protection against any excessive currents beyond the acceptable rating, like a short circuit for example.

Built from high-quality steel and aluminum, the 10 inch PDU is very durable and resistant to physical damage. The black color helps it blend into any environment and enhance the professional look of your equipment room. Given its size, it will provide you with more rack space to work with, only taking up 1U of space, and a 6ft cord will ensure easy access to outlets.

Please note that PDU is meant for 10-inch rack closets (mini-rack, half-rack).

The product is out-of-the-box ready and installs with a few minutes of easy installation.