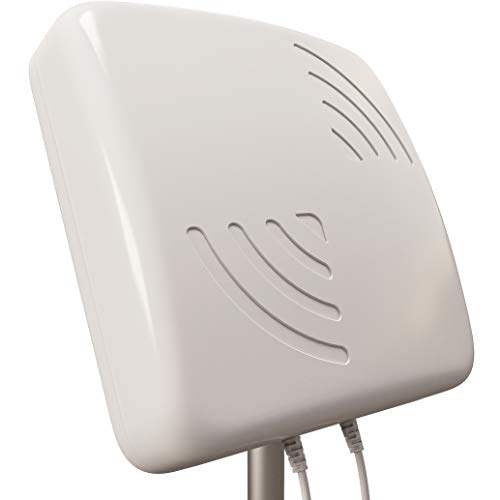 4G/LTE Cellular MIMO Antenna - 9dBi X-POL (±45°) Cross-Polarized Multiple Directional Signal in One Antenna 6FT RP-SMA Male Cable with TS-9 Adapter
UPC: 638362930262
Model Number: TP562
TP562 3G/4G/LTE MIMO antenna uses technology that increases the data capacity of 4G/LTE data services by using multiple, cross-polarized, transmitting, and receiving antennas in one. The main benefit of this dual-polarized antenna is its ability to focus multiple signals in one direction leading to the greater gain figures. It increases signal strength and data speeds for remote sites with poor cellular signal coverage like campgrounds, boats, rural areas...

In a MIMO system, the same data is transmitted through multiple antennas over the same path in the same bandwidth. Because of this, each signal reaches the receiving antenna through a different path, resulting in more reliable data. The data rate also increases by a factor determined by the number of transmitting and receiving antennas.
Tupavco TP562 antenna is for direct-wired connection to cellular data devices with 2 antenna connectors. Use a Y-splitter to connect both antenna cables to devices with one antenna port.
Compact design and the high possibility for adjustment save your time and space. The antenna is made to be mounted on pole mast. It comes with washers, screws, nuts, U-bolts, mounting brackets and a mounting plate. The pole mast is not included.
Tupavco TP562 LTE MiMo antenna is used to direct the data beam to the cell tower. If it's pointed in the correct direction it will increase signal/reception.
Electrical Data
Frequency (MHz): 698-960; 1710-2170; 2300-2700
Gain: 9dBi
VSWR: <2.5:1
Polarization: X Cross Polarized ±45°
Beamwidth: H: 80/70/65° V: 55/53/52°
Nominal Impedance: 50 Ohms
F/B Ratio: > 14/23/28 dB
Mechanical Data
Connector: 2x 6ft pigtail with RP-SMA and/or TS9
Dimensions: 10.4in * 10.4in * 3.3in
Weight: 1.3lb
Radome Material: Weatherproof ABS
Mounting Method: Mast Or Wall Mount
Mast Size: Ø30-Ø50mm
Rated Wind Velocity: 210km/h
Operating temperature: -40~+150°F