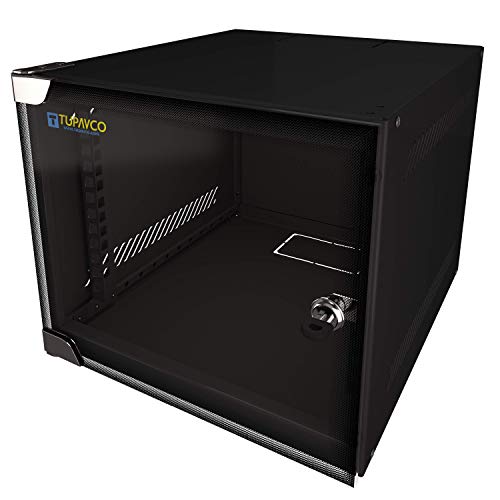 4U Portable 10" Network Cabinet Half-Rack SOHO Floor/Wall Mount Glass Door Secured Lock
UPC: 638362929648
Mount it on a wall or set it up on a floor or tabletop. Either way, this Tupavco 4U 10in Compact Server Cabinet is simple to assemble and install. Made with commercial-grade cold-pressed steel, it's ideal solution for your small office, home or retail shop setup (up to 4 units in all). Measures 9.45" high X 11.02" wide X 12.25" deep.
Tired of cables and your equipment all around the place? Tupavco TP1524 is what you need to keep your router, NAS, switch, UPS, airport drive, A/V equipment devices in one place.
Need the door to swing to the right? Or the left? Either way, you're in luck. Tupavco's super-strong tempered-glass door can be installed on the left or the right. Once installed, it swings 180 degrees wide, to give you full, instant access to all your data equipment. Security lock (included) keeps your devices safe and sound.
Transparent tempered-glass door on our cabinet, gives you possibility to monitor your devices without even opening it!
Your server storage case comes in high-grade SPCC steel, cold-pressed for break-resistant strength. Count on it to safely store your devices, reliably, year after year.