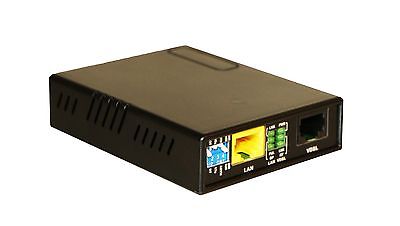 Ethernet Extender TEX-100 1-Mile VDSL/VDSL2 Modem Bridge 100Mbps over Phone Wire
UPC: 741360889002
Tupavco TEX-100 VDSL2 Ethernet Extender is a high-speed, Long Reach Ethernet Extender with one RJ45 Ethernet port and one RJ45 VDSL port. Bridge modem use VDSL2 technology to extend Ethernet service over single-pair phone line. TEX-100 VDSL2 Ethernet Extender features 100Mbps of symmetric data rate.
Features:
-Support flow control on Fast Ethernet port via PAUSE frame or Back Pressure
-IEEE 802.1Q VLAN tag transparent
-Easy PnP installation
-Selectable CPE and CO mode and VDSL2 profile (17a or 30a) via DIP switch are built in the same unit
-Selectable VDSL2 profile mode (17a or 30a) for high data rate
-Symmetric mode support the band plan G.997 and provide the symmetric transmission on both down and upstream
-Asymmetric Provides highest line rate in short range
-Selectable target SNR margin

Specifications:
-DIP Switch:CO/CPE mode,30a/17a Profile,Symmetric or Asymmetric,SNR margin 6dB/9dB
-LED:ACT/LNK,10/100Mpbs,Half/Full Duplex,CO/CPE,Idle/Trained/Link
-LAN Interface:RJ-45,IEEE 802.3/802.3u/802.3x,10/100 Base-T Auto-Negotiation,Auto-MDI/MDI-X
-VDSL Interface:RJ-45,DMT Encoding,ITU-T G993.1/993.2/G.997.1,Surge Protector

Performance - AWG24 Wire:
17a VDSL Profile-Down/Up stream
1000ft-100/72 Mbps
2000ft-42/46
3300ft-18/13
4000ft-16/7
5000ft-12/3
6000ft-9/2
6500ft-5/2
30a VDSL2
1000ft-100/100 Mbps
2000ft-40/45
2000ft-40/45
3000ft-22/19
4000ft-16/7
5000ft-12/3
6000ft-8/2
7000ft-5/2

The actual data may vary depending on copper wire and environment.