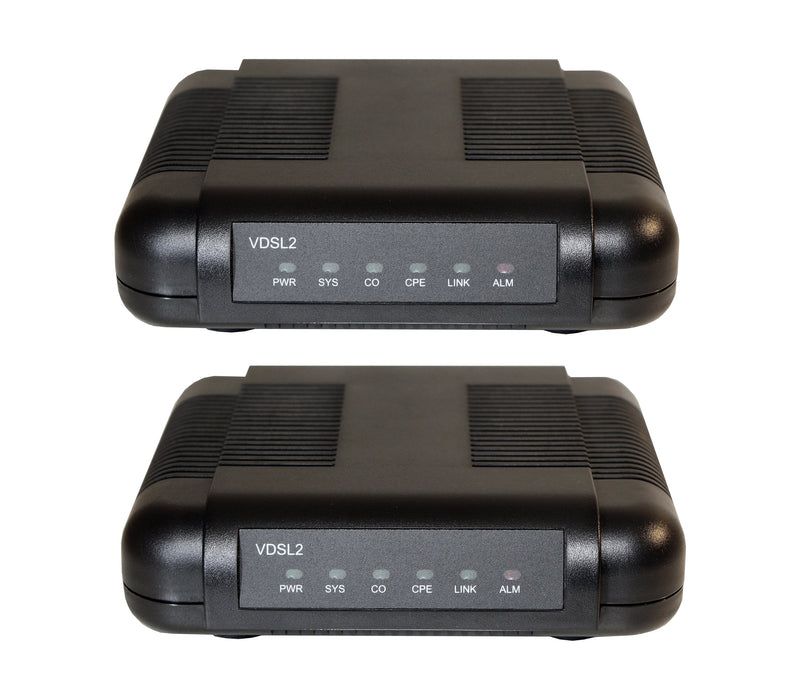 Ethernet Extender 2pc Sender and Receiver Kit - 4-Port VDSL-2 with Phone Splitter- Range up to 1 Mile over Phone Copper Wire or Network Cable
UPC: 741360889019
Tupavco TEX-140s Router is a single-VDSL2-port router with 4 x 10/100Mbps Ethernet ports. It supports up to 30a VDSL2 (ITU G.922.3) profile, and it is perfectly suitable for triple play applications (video, voice and data). Use it with TEX-100 VDSL2 modem to establish a point-to-point connection.
Ethernet Extender TEX-140s kit comes in a pair, with sender and receiver.

Features:

-Support point-to-point mode (support both CO and CPE modes)
-Supports up to 100Mbps for both Up and Downstream
-UPnP, IP/MAC filtering
-Static route/RIP/RIP v2 routing functions
-QoS ,IGMP Proxy and fast leave,-DHCP,DNS Proxy,Embedded SNMP agent

Specifications:

-VDSL2:ITU VDSL2 standard G.993.2 Annex A, Annex B and Annex C,VDSL2:8a,8b,8c,8d,12a,12b,17a,30a,Band plan:symmetric Plan 997 and asymmetric Plan 998
-Management:Web-based,Firmware upgradable,Backups,SNMP management agent and MIB II
-LAN: IEEE 802.1q VLAN Tagging,Port configuration for Bandwidth/Duplex/Speed/Flow
-QoS:Port Based,802.1p,IP DSCP,TCP/UDP Priority,WRR/WFQ/SP/BE
-Routing:Static and RIP v1/v2 (RFC 1058/2453),IP/TCP/UDP/ARP/IGMP,IGMP snooping,DNS relay and caching (RFC 1034/1035),DHCP Server,IP Precedence RFC 791 firewall Router
-Firewall:DMZ Host/Multi-DMZ/Multi-NAT,Virtual server mapping RFC 1631,VPN pass-through for PPTP/L2TP/IPSec tunneling
-Ethernet: 4xRJ45 connectors for 10/100Mbps Ports w/ Auto-MDI/MDIX
-VDSL: 1xRJ11 connector for VDSL2 port

Performance - AWG24 Wire:
17a VDSL Profile-Down/Up stream
1000ft-100/72 Mbps
2000ft-42/46
4000ft-16/7
5000ft-12/3
6500ft-5/2
30a VDSL2
1000ft-100/100 Mbps
2000ft-40/45
2000ft-40/45
4000ft-16/7
5000ft-12/3
7000ft-5/2

The actual data may vary depending on copper wire and environment.