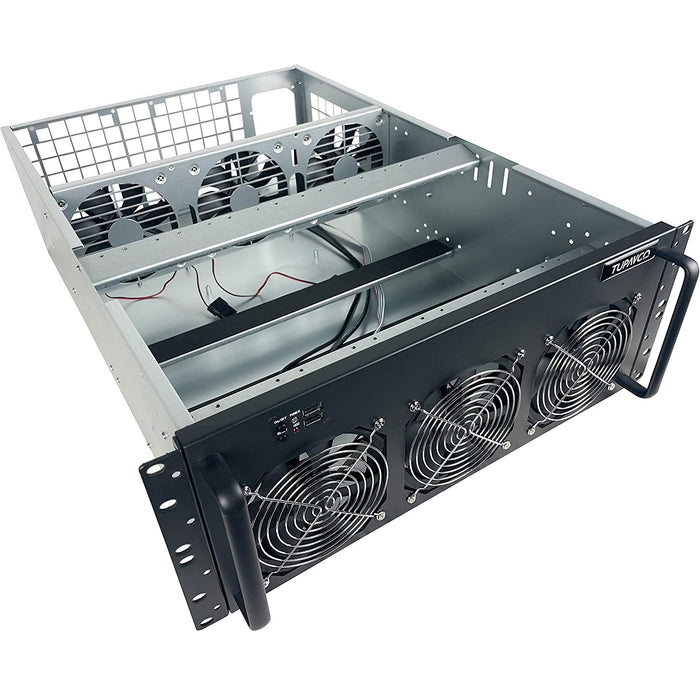 8 GPU Mining Rig Case - 4U Rack Mount Miner Server Chassis Frame (8 Graphic Card Slots)
UPC: 638362930200
Model Number: TP1846
TP1846 GPU Mining Rig Case
Tupavco TP1846 - 4U GPU Mining Frame that fits in any standard 19-inch server rack for Multi-Miner server room setup.
Excellent choice for a DIY configuration mining frame rig. It is crafted from high-quality materials, with great airflow, and can fit up to 8 graphic cards and 8 cooling fans, 2 front USB ports, and room for 1 storage option.
This mining frame case is made of high-quality SGCC steel, making it very sturdy and durable. It will protect your GPU and other electronic equipment from any possible physical damage.
Thanks to its dimensions it is compatible with ATX and microATX motherboards. 6 built-in fans take care of air circulation keeping the mining rack ventilated and reducing the heat buildup, in addition, 2 more coolers can be mounted on the back totaling 8 fans.
TP1846 is a 4U rackmount closed chassis designed for standard 19" racks, cabinets, or enclosures, no additional assembly is needed.
[Note]: only fans are included with the package and no additional equipment or hardware.
SPECIFICATION
Dimension (W*H*D) 19" x 7" x 25.6" (485x177x650mm)

Material Construction Heavy-duty and anti-rust SGCC steel, thickness:1.2mm

Motherboard: Full-Size ATX(12" x 9.6")

Control & Indicator: Power switch & Reset switch;

LED (power) & LED (HDD)

Drive Bay 1x 3.5"" or 1x 2.5""

Power Supply: Standard PS-2 ATX or Mini-redundant PS

Sliding rails 26" (optional)

Color: Black

Operation Temperature Up to 50C (122F)

Operation Humidity (Non-condensing) Up to 90%
FITS CARDS DIMENSIONS:
Max Length: 13 Inches

Max Height: 5 Inches
Max Width: 2 Inches (8 cards setup); 2¾ (6 cards setup)