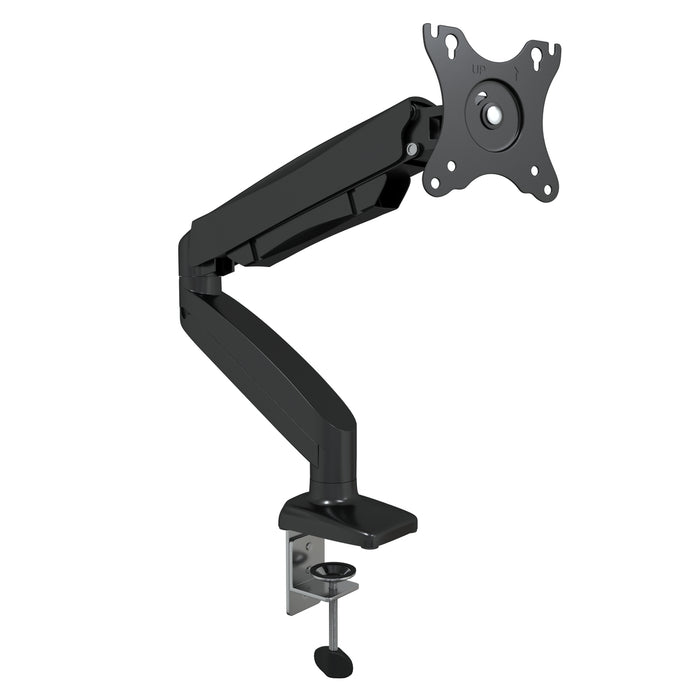 Monitor Arm - Gas Spring Single Monitor Stand - Fully Adjustable Motion (Rotation/Tilt/Swivel)
UPC: 638362930095
Model Number: TP1705
Single monitor arm for desk mounting with GAS spring

Supports VESA 75x75 and 100x100 standards and as such, it is compatible with most monitors up to 32 inches size and is capable of holding up to 17lbs of weight.

A combination of steel/aluminum build provides a sturdy base for your monitors together with a high-quality gas spring any adjustments will feel smooth and stable. The gas spring will also allow you to adjust the tension of the arm depending on the weight of the monitor.

Tupavco TP1705 will give you every adjustability option you can think of as it is highly adaptable, with +45° to -45° tilt, 180° swivel, 360° rotation you can also set height and length so you can have perfect viewing angles. VESA plate is detachable and enables you to quickly remove the monitor.

Ergonomic and health benefits are also there, by having the ability to set your display to eye level you are reducing strain on your eyes, neck and shoulders.

We are all tired of clutter on our desktops having a monitor stand on as well takes up so much valuable space, compact base for this monitor arm will free all work surfaces you need, and combined with built-in cable management solution you will not have to worry about the clump of cables on your desk either.
Setup is easy, simple and shouldn't take more than 10 minutes of your time. The monitor stand can be set in 2 ways C-clamp (without desk hole) Grommet (with desk hole) all tools for the installation are included with the product.
[Universal] Fits most flat monitors up to screen size of 32 inches arm is capable of holding 17.6lbs. Monitor arm is equipped 75x75/100x100 VESA bracket and is compatible with every monitor within these parameters
[Full Adjustability] Gas spring monitor mount with adjustable height, length, 360° screen rotation and +90° to -45° tilt and 180° swivel Tupavco 1705 will provide you full range of motion and enable you to position screen at your exact eye level reducing strain on eyes shoulders and neck.
[Free Desk Space] Small mounting base will give you all of your desk space back otherwise taken by default monitor stand. Built in cable management option will keep those pesky cables in check and out of your sight leaving your work space clean.
[Easy Setup] Tupavco 1705 can be fully set in 10 minutes. Mounting is possible in 2 ways C-clamp or Grommet. Tools for setup are provided with purchase. VESA plate is detachable so you have the option of quickly removing the monitor.
[Sturdy] Solid construction and combination of steel/aluminum makes it very study while high quality gas spring will keep your monitors stable.