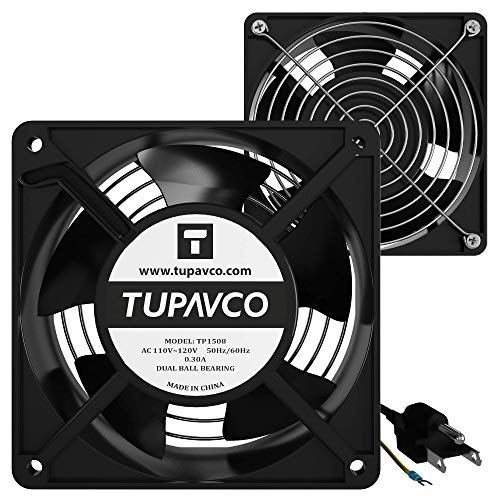 Network Cabinet Fan Kit 2pc Muffin Server Rack Cooling -Top/Side Mount
UPC: 638362929921
Network Cabinet Fan - Tupavco TP1508 set of 2 horizontal or vertical mount (dual ball bearing) fans provides an efficient solution to keep your network cabinet, entertainment center, or audio-video setup cool even under full load. With its specially designed blades, dual fan kit provides ventilation with maximum airflow (rated 95-110 CFM), protecting all your components from overheating. Server rack fans operate on 110V~120V AC with rated speed 2600-3000RPM and it generates noise as low as 59dBA.
This kit comes with two fans (not one) in steel enclosures, 6.2 feet (190cm) power cord, self-tapping screws and extra wire for ground (9 inches~23cm).It's your choice where you want it installed since it's made for multiple applications like fan panels, trays, server cabinets, entertainment centers and many more.
Tupavco TP1508 merges aesthetics and heat dispersion in this 120mm sleeve bearing rackmount fan. With its elegant design of blades and stunning black coating, this cooling system will not just keep your setup cool, it will make it to look outstanding!
Outer dimension of enclosure per fan is 4.75"(120mm), space between holes is 4 inch (102mm), and thickness is 1.5"(38mm).
There are two ways how you can mount the fans: Standard way using self-tapping screws, or you can choose a quicker way of mounting them using silicone rubber screws - rivets included in the package.
Keep your components at low temperature for a stable performance with set of 2 Tupavco fans!