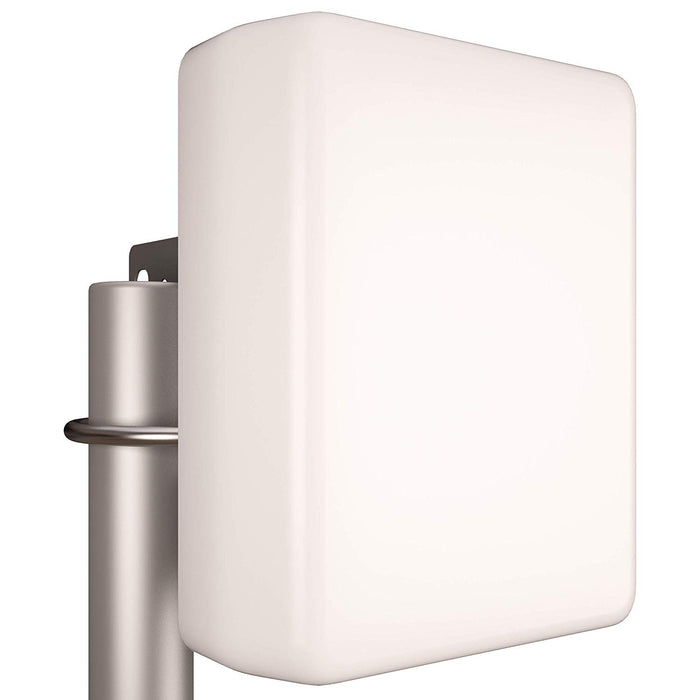 Panel WiFi Antenna - 2.4GHz/5GHz-5.8GHz Range - 13dBi - Dual Band/Multi Band Outdoor Directional
UPC: 741360888913
Model Number: TP542
TP542 13dBi WiFi High-Gain Panel Antenna
Panel antenna is used to radiate the signal into the forward space. The primary purpose is to reach places where a device with a default antenna would not reach. It is designed for use on stationary objects such as buildings or houses, but it is widely used for remote connection at campgrounds, RV motorhomes, boats, or remote devices like WiFi cameras.
This outdoor directional wifi panel antenna collects the signal and sends it through the cable to a networking device. It is equipped with an N-Female connector and it is ready to connect to a device with a proper extension cable. It requires a 50 Ohm RF coax expansion cable with N-Male connector on the antenna side and connector type that fits the device on the other side. As a rule of thumb, always use the shortest line and thickest cable to avoid signal loss. Do not use RG59/RG6 coax (75 Ohm TV cable) – signal will be seriously degraded.
Dual-Band covers both 2.4GHz and 5GHz frequency spectrum.
Dual-band or multi-frequencies equipment is capable of transmitting a signal in either of two different standard frequency ranges. The primary differences between the 2.4 GHz and 5GHz wireless frequencies are range and bandwidth; while the 5GHz range provides faster data rates but at a shorter distance, 2.4GHz offers coverage for further distances but may perform at slower speeds. The router or access point device needs to have a detachable external antenna connector that supports both ranges in a single antenna.
Directional Long Range Point-To-Point
This directional antenna is designed for point to point directional wireless applications. To maximize the benefits of this antenna type, point the signal beam to a remote WiFi node. It provides the most focused 13dBi signal in a narrow beamwidth of ~40° horizontally and ~35° vertically.
The distance this antenna can reach may vary based on obstacles on the antenna path to the remote WiFi node like walls, trees, and other objects. The best signal gain is when a "direct line of sight" between the antenna and the remote location is possible.
Installation
Parts included: mounting bracket, U-bolt, washers and screws
1. Remove plastic protectors from screws on the back of antenna.
2. Attach the mounting bracket on those screws and secure with washers and screws nuts.
3. Insert U-bolt around .5" to 2" pole, put the mounting plate from opposite side, and now ends of U-bolt through mounting bracket and secure with washers and screw nuts.

Electrical Data
Frequency: 2400-2500 MHz; 5150-5850 MHZ
Gain: 13 dBi
VSWR: <2.0:1
Polarization: Vertical
Horizontal Beamwidth: 40°; 41°
Vertical Beamwidth: 35°; 33°
Nominal Impedance: 50 Ohms
F/B Ratio: >20 dB
Max Input Power: 100 W
Lightning Protection: DC Ground

Mechanical Data
Connector: N-Female
Dimensions: 5.5*4.7*1.5in
Weight: 1lb
Reflector Material: Aluminum Alloy
Radome Material: Weatherproof ABS
Mounting Method: Mast
Mast Size: Ø30-Ø50mm
Rated Wind Velocity: 210km/h
Operating temperature: -40~+65C