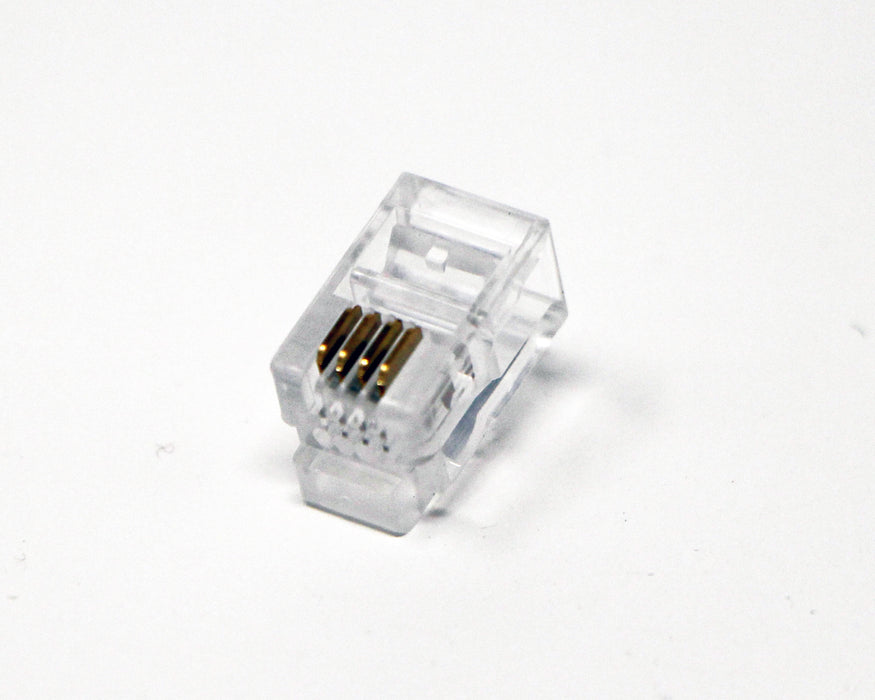 RJ9 Modular Headset Connector (100 Pack Per Bag) 4P4C Phone Connectors - RJ9/RJ10/RJ22 Jack Crimp
UPC: 741360888296
TP808 modular headset jack is used to connect to handset, or headset via the amplifier to the phone.

RJ stands for Registered Jack. You may come across headset advertisements that use one of the following terms RJ9, RJ10, or RJ22. The terms are used interchangeably to talk about a headset that plugs into a desk phone's standard handset port (potentially via an amplifier). The headset then essentially replaces the handset.

These headset connectors RJ9, RJ10 and RJ22 all refer to the same, this item, four-contact 4P4C handset or headset plug.

The handset/headset RJ9/RJ10/RJ22 plug (this item) is smaller and not the same as RJ11/RJ12 telephone jack you will find on your wall line at home.
RJ9 wires carry audio, so you can talk and listen to callers.
Suitable for the standard telephone handset and is used widely in home or office cable system.
Clear plastic housing with pins purity of copper wire higher than 99.99% for fast and accurate data transmission.