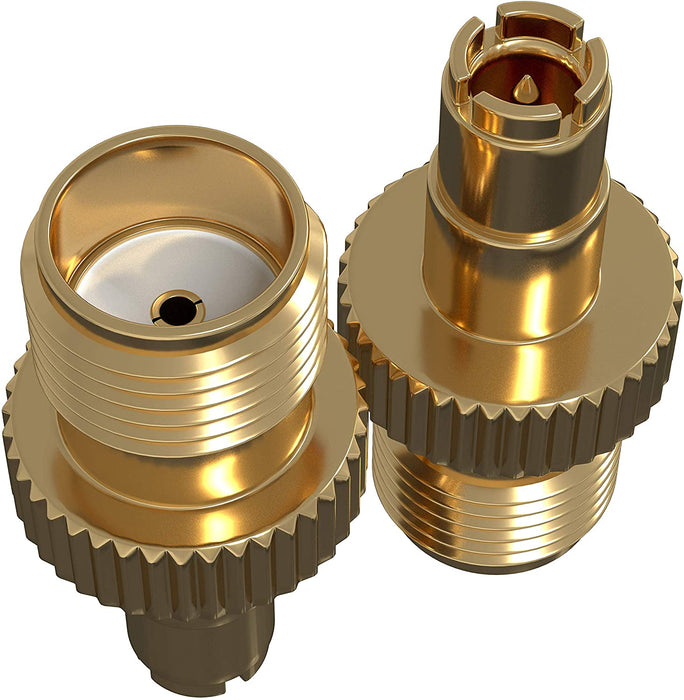 SMA Female to TS9 Adapter (Pack of 2) - Tupavco TP1608
UPC: 638362929990
Model Number: TP1608
SMA Female to TS9 Adapters allow you to couple your cellular hotspot or wireless internet device directly to an external LTE/4G or WiFi antenna for super-fast 4G MIMO or WiFi reception. TS-9 (or TS9) is an uncommon RF coaxial connector found in cellular devices such as 3G and 4G hotspots or mobile broadband and modems to support the connection of an external antenna.
SMA Female to TS9 Adapters are useful for adapting 4G LTE (SMA Male) antennas and/or Low Loss coax cables to hotspots and other devices equipped with TS9 antenna ports.
Kit of two (2) connectors is handy for MIMO antennas. MIMO antennas are two antennas in one with two pigtail cables. The most LTE hotspots have two TS9 connectors on the device for MIMO antenna connection, or they can use two separate 4g/LTE antennas as Main and Secondary antenna.
It is compatible with 4G LTE Mobile Hotspot, MiFi and Wireless Routers, Cellular Mobile Broadband Modem, USB Dongle Adapter …
It's made of copper with gold-plated surface treatment, Impedance: 50ohm for Low-loss series 100 and 300 antenna cables.