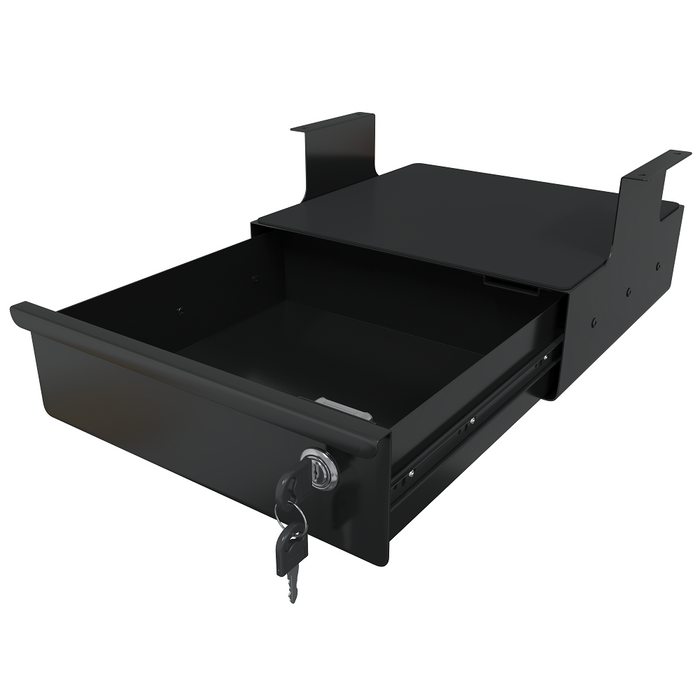 Under Desk Sliding Pull Out Drawer - Key Lock Storage with Padded Extra Shelf Compartment
UPC: 638362930064
Model Number: TP1702
Have trouble with space on your work desk or always needed a safe place for your laptop or sensitive documents? We are here to help you.

Tupavco 1702 is a Sliding pull-out drawer meant to provide additional space for your office equipment and keep it safe.

Thanks to its low profile it will fit any environment home or office, the drawer is very sturdy, made from steel and contains a lock (2 keys, one spare) so you don't have to worry if someone was going through your belongings.
Plenty of space is provided with the drawer itself; Dimensions are W: 13.5" x D: 12.87" x H: 7.60".
On top of this you can use it as a support shelf due to hanging brackets that create a space between desk and drawer.

The top of the drawer has added layer foam to prevent slipping and scratching so you can safely keep your laptop or tablet here while you are at the desk for easier access.

The total weight that can be supported is 22 lbs this is including the weight of the drawer.

It is recommended to mount the drawer on the table that has a desktop width of at least 1 1/4 inches and make sure the desk itself can support added weight.

Drawer setup should take you a maximum of 5-10 minutes as there is no additional assembly only mounting is required. Mounting screws are included.