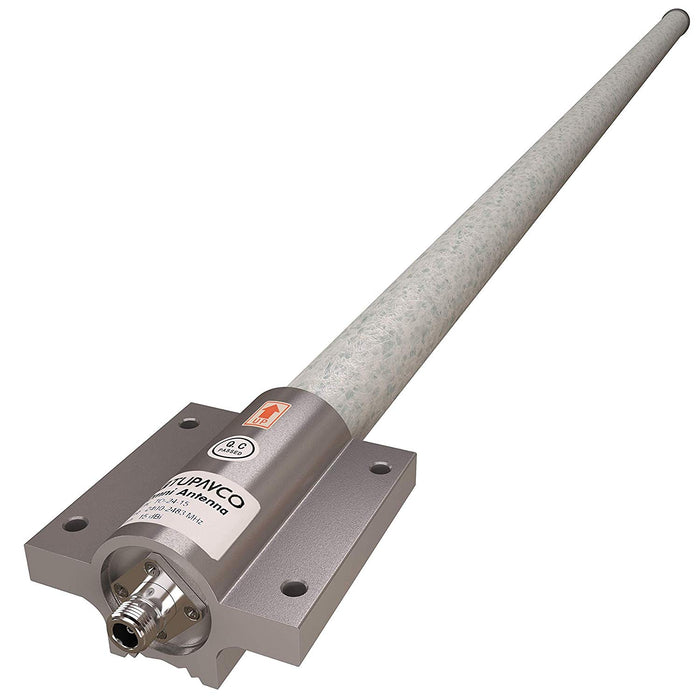 WiFi Outdoor Omni Antenna High Gain 15dB 2.4Ghz Weatherproof Network Extender Roof Signal Amplifier
UPC: 638362929457
Tupavco TP550 omnidirectional antenna is made to extend your existing wireless network with creating wide circle signal beam and to act as an amplifier, giving you the opportunity to stay connected even on a long distance from your router. With a wide possibility of application, WiFi omnidirectional antenna becomes a perfect solution even in the most demanding situations. Mount it outside on a roof, RV in a campground, boat in the marina or inside - boost your network in a warehouse, school, hospital, stadium and much more.
Gain more wireless distance when you switch from your standard 2dBi external antenna to 15dBi multi-directional antenna and get up to 2 miles of range (only in ideal conditions where there is no obstacles and other devices that will interfere with WiFi outdoor antenna, and when you have another TP550 on another end).
Omni antenna signal booster supports all popular wireless standards - IEEE 802.11 a/b/g/n... When it comes to bandwidth, all depends on your link strength. Stronger link quality means higher bandwidth and opposite - weaker link means lower bandwidth. Use our other antennas in a combination with Omni antenna to extend your network in both ways - directional and multi-directional.
The installation process is hassle-free! With included bolts, washers and nuts, you can simply attach a WiFi booster on a pole without using any special mounting accessories. Omni-directional weatherproof network repeater antenna comes with a pre-installed N-Female connector, so one end of your cable should have an appropriate connector for that one (N-Male). On the other end, you need a connector which will fit your device modem/router connector, or you can use an adapter which converts your existing cable connector to the one you need.
Extend your existing wireless network with omnidirectional long range antenna in 360 degrees with high gain 15 db signal strength
Fiberglass weatherproof radome material made to resist all weather conditions
N female connector - mounting accessories included in the package
Make your own private or public WiFi hotspot - Indoor and outdoor applications
Frequency - 2.4Ghz; Gain - 15dBi; Polarization - vertical; Horizontal beamwidth - 360 deg; Vertical beamwidth 4.5 deg; Impedance 50 Ohms; Max input power - 100W; Lighting protection - DC ground