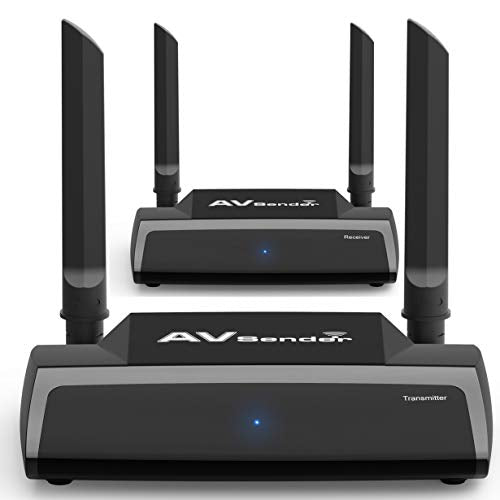 Wireless HDMI Transmitter and Receiver HD Extender Kit Dual Band 1080P Video/Audio/IR Signal Extension
UPC: 638362929365
Tupavco TRM245 wireless HDMI transmitter and receiver system allow you to wirelessly extend your audio/video signal from HDMI capable devices. You can successfully share picture and sound from your DVD, DVR, CCTV, Camera, VCR, IPTV, BluRay, Gaming Console, Laptop/Computer, Projector and similar to any other HDMI device in another room in Full HD 1080 resolution without running inconvenient cables throughout your home.
TRM245 creates its own wireless network which you can control by using an admin interface. All you need is to power on your devices without connecting HDMI cable, and using your PC, Macbook, Chromebook or smartphone browser to access admin GUI. From there, you have full control of your wireless HDMI extender. Choose the frequency channel of your HDMI wifi, change the name, password...
The system operates on advanced dual band wireless transmission scheme either 2.5 GHz or 5.8 GHz, with a plenty of channels made to avoid interference and strong 16dBm signal for a long distance transmission. HDMI cable extender can transmit the signal through ceilings, walls, floors, but the maximum range of broadcasting directly depends on a number of obstacles in your environment. If you have non-porous obstacles such as glass, steel, brick or concrete, you may expect signal strength to drop significantly.
IR remote control gives you the ability to control the content you watch from your preferred location. Just point it to a receiver, and change the HD content from another room without going to the source location.
The package includes 2 devices, sender and receiver, 2 high-quality HDMI cables, 2 power adapters, IR extension cable, and quick setup guide.