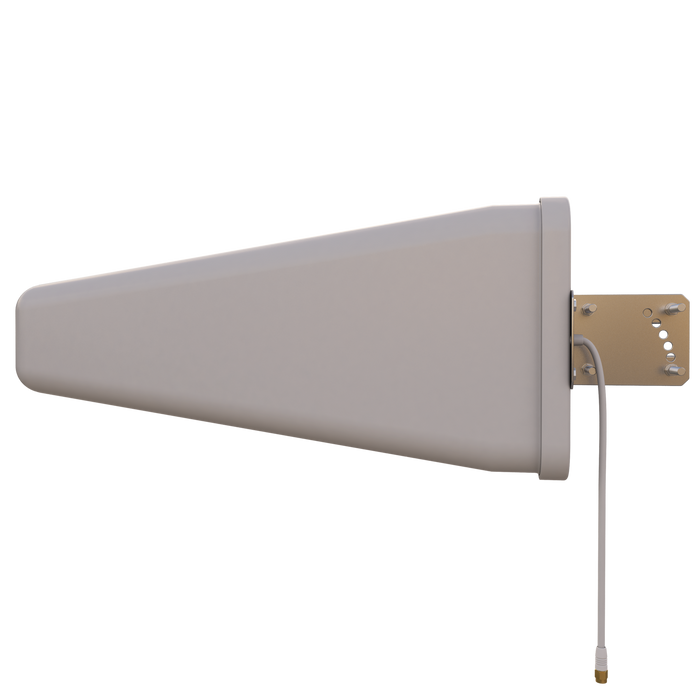 Yagi Directional Roof Antenna 3G/4G/LTE Wide Band 11dBi 698MHz to 2.7GHz Cell Phone Signal Booster
UPC: 638362929297
Model Number: TP545

The main benefit of this wideband Yagi antenna is its ability to focus its signal in one direction leading to the greater gain figures.

This antenna is designed for use on stationary objects such as buildings or houses. This unique multi-band directional antenna covers the wide multi-range spectrum and can be used for cellular frequencies including North American standard 806MHz to 2.7GHz range.

Antenna collects the cell tower signal and sends it through the cable to an amplifier, cell phone or cellular data card. When the cell phone or cellular data card transmits, the signal is transferred to an amplifier or directly to the antenna and broadcast back to the cell tower.

Yagi Antenna is the most popular type of directional signal antenna in use today. The 11dBi Outdoor Yagi Antenna offers 45 deg Vertical and 55 degrees Horizontal Beamwidth. This WiFi antenna comes with an SMA-Male connector and SMA-Male to TS9 adapter.
Yagi Cell Antenna TP545 is a roof antenna and in most cases can not be attached directly to the device (wifi router, AP, etc.) without some type of cable converter/adapter. This is the directional antenna and you will need to know the direction of your source signal to be able to point the antenna to the signal source. You can add an amp of some kind between the device and the antenna. Please check your cellular provider frequency to be sure that the antenna range will cover that frequency.
Frequency (MHz): 698-960 | 1710-2170 | 2300-2700
Gain: 11dBi VSWR: <1.7:1 | <1.5:1 | <1.5:1
Polarization: Horizontal or Vertical
Horizontal Beamwidth : 58°(±8° ) | 55°(±8° ) | 51°(±8° )
Vertical Beamwidth: 47°(±8° ) | 46°(±8° ) | 42°(±8° )
Nominal Impedance: 50 Ohms
F/B Ratio: > 25 Db
Max Input Power: 100W
Lightning Protection: DC Ground
Connector : SMA-F and TS-9
Dimension : 17.4*8.3*2.5 in
Weight : 1kg/2.2lb Cable
Length : 300mm/11.81in
Radome Material : Weatherproof ABS
Mounting Method : Mast
Mast Size : Ø40-Ø50mm
Rated Wind Velocity : 210km/h
Operating temperature : -40~+65°C