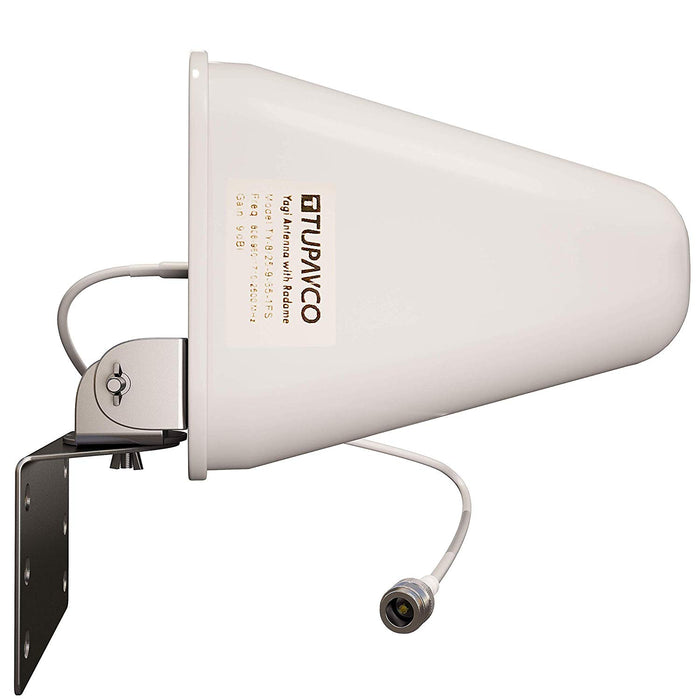 WiFi Antenna Dual Band - (2.4GHz) and (5GHz/5.8GHz) 9dBi - Medium Range Directional LAN Network
UPC: 741360888906
Model Number: TP541

DB541 Dual Band 9dBi
Dual Band design of this antenna eliminates the need to purchase different antennas for each frequency range and it can be used outdoor on both 2.4Ghz and 5Ghz range.
Covers 2.4GHz and 5GHz Range
The main benefit of this dual-band antenna is its ability to focus its signal in one direction leading to the greater gain figures. This antenna is designed for use on stationary objects such as buildings or houses. This unique multi-band directional antenna covers the wide multi-range spectrum and can be used for the wide frequency range. Antenna collects the signal and sends it through the cable to an amplifier or other networking devices.
Electrical Data
Frequency: 2400-2500 MHz; 4900-5850 MHZ
Gain: 9 dBi
VSWR: <1.8:1
Polarization: Vertical
Horizontal Beamwidth 2.4GHz Range: 58°
Horizontal Beamwidth 5GHz Range: 50°
Vertical Beamwidth 2.4GHz Range: 47°
Vertical Beamwidth 5GHz Range: 41°
Nominal Impedance: 50 Ohms
F/B Ratio: >20 dB
Max Input Power: 100 W
Lightning Protection: DC Ground
Mechanical Data
Connector: N-Female
Dimensions: 5.9*4.7*2.1in
Weight: 0.77 lb
Cable Length: 11.81in
Reflector Material: Aluminum Alloy
Radome Material: Weatherproof ABS
Mounting Method: Mast or Wall Mount
Mast Size: Ø40-Ø50mm
Rated Wind Velocity: 210km/h
Operating temperature: -40~+65C